Candi Tikus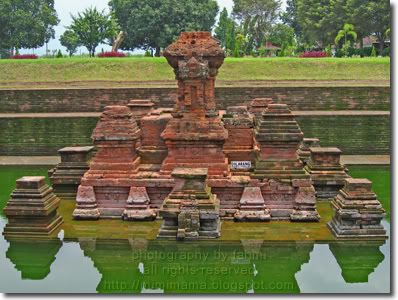 First, I must thank
Astri
,
Jimmy
,
Hilman
, and all friends at
Wisata Surabaya Community
. Without these people, it would be difficult for me to visit Trowulan. And it would be even more difficult to learn the history and culture of the Majapahit Kingdom.
In Trowulan, we visited Pusat Informasi Majapahit (The Museum of Trowulan) and some ancient archeological sites. One of these interesting sites is Candi Tikus.
Candi Tikus is located at Dusun Dinuk, Desa Temon, Kecamatan Trowulan, Kabupaten Mojokerto, Propinsi Jawa Timur, Republik Indonesia.
The story of Candi Tikus was started with the finding of a temple miniature at a public cemetery. Thus the finding led to the excavation of Candi Tikus at 1914 when Kabupaten Mojokerto was ruled by bupati R. A. A. Kromodjojo Adinegoro.
The site was named Candi Tikus (Temple of Rats) because in 1914 there was an epidemy of rats attacking rice field. Thus from the search of rats nest, this archeological site was discovered.
Calculated to be built in the 13th or 14th century, this temple is used for ritual bathing facility (petirtaan). And also considered as cosmos constelation balancing for the spiritual area at the west side (Siti Hinggil).
The temple was constructed using red brick material at the depth of 3.5 metres below ground level. Rectangular in shape with each side measured as 22.5 metres. The complex of Candi Tikus is very vast and located at one point of a man made irigation canal which is connected to Kolam Segaran. The building of this temple looks like mount Mahameru from the Hindu mythology which is believed to be associated with the spring of holy water (Tirta Amerta).
The temple's construction is formed in multi level terraces. Formation at the north side of the temple has steps downward to the ritual bathing facility. The ornaments at the sides of the steps is already badly damaged. At the first terrace, there are eight temple buildings. At the second terrace is the main temple, surrounded by eight smaller temples. This is the construction that is believed to look alike mount Mahameru. Along the foundation of the temple there are ornaments shaped like makara head and petals of padma flower. The ornaments are made of stones and are used as jaladwara (water tunnel) of the temple. Water from that location is believed to be the holy water.
But, if observed from a peculiar point of vew, the geometry of this temple is quite interesting! In my fantasy, this temple's construction can also be considered as a docking station or runway for aerial transportation medium with 'vertical take off and landing' capability, hehe. But by that time, harrier was not yet in mass production. So, does it make sense if we have had visits from guests from other planets in the past?
Anyway, in the era of Dutch Colonialism, Candi Tikus have had a restoration. Some restoration projects noted in history are: the reerection of main temple tower using cement, and the building of drainage canals to the west using tunnels. And then at the era of National Development, Candi Tikus was again restorated by Direktorat Perlindungan dan Pembinaan Peninggalan Sejarah dan Purbakala by the project of Pemugaran dan Pemeliharaan Bekas Kota Kerajaan Majapahit at 1984-1989.
Well, this note is just a part of the recent Trowulan travel. Please correct me if I missed anything or there is any mistakes in historical notes. Notes on other archeological sites will be published in the following post (but that is not a promise, hehe).
Tempted to experience similar travel? Feel free to join wisatasurabaya at yahoogroups by sending blank email to
wisatasurabaya-subscribe@yahoogroups.com
, or via web at
http://groups.yahoo.com/group/wisatasurabaya/
. Don't forget to check the
blog
(
mirror
).
p.s. duh, telat banget nggak seh posting ini? hihihi :D